Have you a product Quarter turns bespoke fixings that would work in our systems ?
Question :
Hi there,
We are a bespoke magnetic secondary glazing company operating in Scotland . Currently when installing very large systems, we use screws as an extra safety precaution to fix them onto their frame. This, however, limits the number of times the customer can remove the system without wearing out the thread, and also means they can't do it without tools. 
We would be very interested in speaking to you about how one of your products could become part of our installation process. I could show you how our systems are installed and see if you have a product that would work. 
Thanks in advance. 
Answer:
Dear,
Following our conversation of this morning.
Here is the full information:
P = 4mm
Magnet P = 2.5mm
Magnet F = 2.7mm
Frame = 16mm
The issue is the receptacle
I would propose following receptacle:
- you'll need to drill a hole fo 13/32  (recommend to drill undersize)  (so drill with a standard 10mm drill)
- you'll need to tap your hole in the wood with ½-13 tap.  (this might be tricky)
It means you cut away 12.7mm in diameter, so estimate = 13mm, 20-13 = 7mm, which means your magnet strips will only have 3.5mm on each side ; which might cause the issue of the sealing
Pricing for just the receptacle
MTHRT813S
This receptacle has as an estimate 10-20 GBP at 100 pieces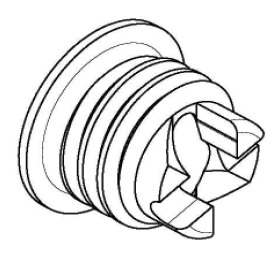 W = 0.5 inch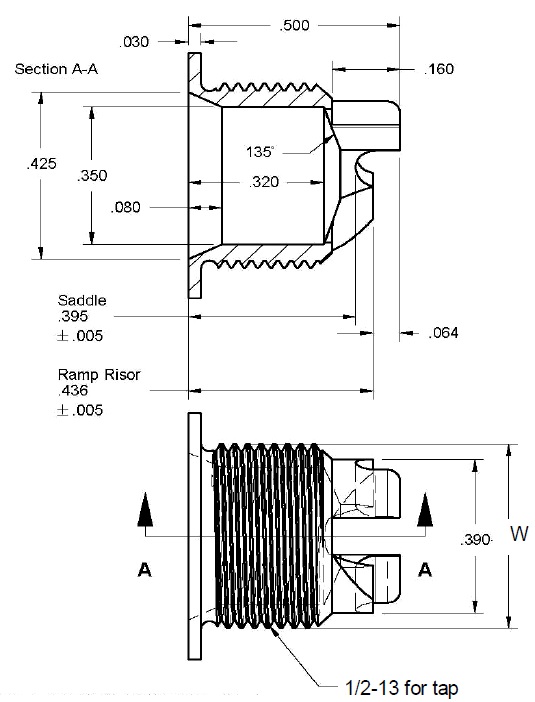 Since that will be to costly
You have also the option:
But since it has no sleeve, and you need to be able to adjust the depth afterwards, by having access to the back of your frame, which is not the case.
I cannot offer that version:

So let's go back to the issue of cost
A way to avoid costs, is to prepare your panels more.
It will mean you need to counterbore your frame, in order to have a nut fit.
Furthermore, you'll need to integrate some kind of metal/Aluminium plate in the upper side of the frame, in order to have the receptacle nut being pulled through the wood (it really won't go other way)
Then you can use a standard receptacle and nut
https://www.turnlock.eu/mthrtzz
https://www.turnlock.eu/mthnz                             (hole will need to be larger, so you can turn the nut)
I've used now the assumption that you will have this receptacle sit completely perfect flush in your frame.
Then, following formula is correct:
P + 0.5 = 4+2.5+2.7 +0.5 =9.7mm
The stud you have is length number 12
Which falls into a tolerance of (9.15-9.9mm)
So you probably get my point, if you deviate, and have 0.2mm more thickness, you'll have difficulty to actuate the fastener.
Your stud would be then:
https://www.turnlock.eu/mthtlfr-12sk (website is being updated)
the hole you need to drill in your upper panel measures: 7.9mm
you'll need then also the retaining washer: MTHWFS
And since the stud is quite large and not that aesthetic and costly
I would go for a more economical solution.
Which made me think, that you need some extra tolerance too.
I would therefore suggest a product that is push to open and push to close, (very inuitive for an end-user)
P is in this case = 9.2mm
We have a product that has a tolerance: 8.4-9.9mm total thickness
The issue will be to install the receptacle, as it is much longer then the frame thickness of 14mm.
A way could be to cut out a hole out of the magnets, and place a metal plate on top of it, and fasten it with screws.
This would take out thickness out of the application.
Imagine you find a plate with exact thickness of 2.7mm.
Then your total thickness becomes: 6.5mm
And your thickness of frame becomes 18.7mm
The total length of this receptacle = 21.8mm
So still an issue.
You'll have to damage the frame of the actual window at your customer.
Imaging you do this,
Then my assumption would be the following:
6.5mm  length number 7
Falls in the range of (5.3-6.9mm)
https://www.turnlock.eu/mpptl-7n
in the future we can have this also made in plastic black, when volumes go up.