Belgium's Anemo Engineering Opens Japanese Website for "Turnlock", an Easy-to-Remove Fastener
Anemo Engineering (Alveringem, Belgium) has launched a Japanese website for its "Turnlock"
fastener, which facilitates the fastening and removal of two panels.
Turnlock allows safe and easy fastening and removal by simply pinching the head of the fastener with a finger and turning it by a quarter turn. These fasteners are ideal for panels and other assemblies that need to be opened and closed quickly. It consists of a spring, retaining washer and receptacle (female). It is durable and resistant to vibration. In addition to products that can be removed with the fingers, the company offers a variety of products that require the use of standard tools such as crosshead screwdrivers, spanners, and hexagonal wrenches.
Turnlock products are used by NASA for equipment such as the shredder that astronauts bring to the International Space Station (ISS), 3D printers that use the resin cut by the shredder as material, and experimental equipment called "ice-cubes. It is now used in machinery, transportation vehicles such as trains, construction equipment, and military equipment.
Although 30% of its sales are generated from the U.S. market, the company has been preparing for the development of international markets. This time, they opened the first version of their multilingual website in Japanese. The website features a wide variety of turn-lock products and videos.
Moreover, high-strength aluminum products have been added as a new product lineup of Turnlock. The lineup includes MTH slots with slotted head recesses that can be installed with a screwdriver, MTH crosses with cross recesses, and MTH folding rings with ring handles that can be installed by hand. These products contribute to weight reduction that can be achieved only with high-strength aluminum. The cross pin and spring are made of stainless steel for strength.
In addition, the company released a receptacle (female part) with an adjustable function that can be used for different thicknesses of mounting panels. Studs (male parts) of the same length can be used for mounting panels of different thicknesses. By screwing the insert in the receptacle inward or outward, the receptacles can be adjusted for a specific panel thickness.
Once the height is adjusted, remove the security pin to fix it in place. They are applicable to MTH series and HGR series.
Turnlock is available with certificates of quality, conformity, and origin according to user requirements. The company is planning to expand its business in Japan by recruiting distributors to handle Turnlock. For product details and inquiries, visit the official Japanese version of the website.
Various types of Turnlock (High-strength aluminum products in the lower half):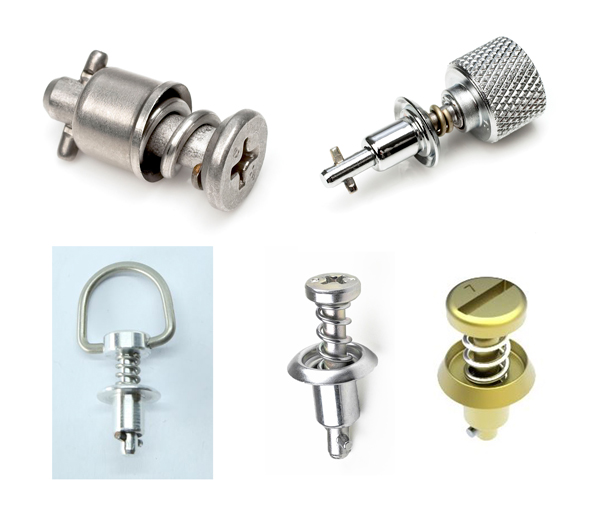 Read the original Japanese article here >